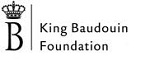 Support for grassroots agriculture, community water, and a prize in African development
Principal Office: :
Belgium
The King Baudouin Foundation (KBF) supports projects and citizens who are committed to making a lasting contribution towards greater justice, democracy, and respect for diversity.
The Foundation defines several thematic areas, of which "Africa, Asia, Latin America" is the most relevant in the Terra Viva Grants Directory.
Grant Programs for Agriculture, Energy, Environment, Natural Resources
1 — Grassroots Development in Africa, Asia, Latin America. The following funding programs support grassroots development.
Elisabeth and Amélie Fund. Grants support access to safe drinking water and sanitation at the community level. Grants are to Belgian organizations that work with local partners in the southern hemisphere. The Fund provides its objectives, selection criteria, application deadline, contact information, and past funded projects. Applications are accepted in French and Dutch.
Efico Fund. The Fund promotes sustainable social, economic, and environmental development in economically poor communities which grow coffee and/or cocoa. Grants are to nonprofit organizations, companies, public authorities, and private and public foundations in Belgium and other countries.
Business Partnership Facility. The program provides subsidies to support and develop private sector involvement in Sustainable Development Goals (SDGs) in developing countries. Applicants must be part of a partnership that brings together actors from the private sector, civil society, academia and/or the public sector. The partnership must comprise at least one organization from the for-profit private sector.
Ernest du Bois Prize. The Prize is intended for young students who conduct doctoral research on the theme of water and its availability in Belgium or throughout the world. The prize will cover the costs associated with completing the student's PhD.
APPLICATION: The KBF operates through calls for proposals when funding is available. The announcements usually include program objectives, selection criteria, application deadline, and contact information.
Link to Calls for Project Proposals
2 — KBF African Development Prize. The African Development Prize recognizes persons and organizations which have made substantial contributions to the development field in Africa. The Prize is €200 thousand, awarded every other year.
Worldwide
The Foundation's main website in Brussels is available in Dutch, English, French, and German.
The KBF manages donor-advised funds. Companies and individuals contribute to the Foundation in general, or they ask to establish named funds.
KBF provides contact information for its office in Brussels.
July 2021