David and Lucile Packard Foundation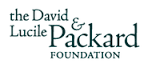 Grants in subject areas that include marine fisheries, marine birds, Pacific coastal ecosystems, and climate change
The David and Lucile Packard Foundation aims to partner with innovative people and organizations to improve the lives of children; enable the creative pursuit of science; advance reproductive health; and conserve and restore the earth's natural systems.
The program area of principal significance in the Terra Viva Grants Directory is Conservation and Science. This is among Packard's largest programs.
Grant Programs for Agriculture, Energy, Environment, Natural Resources
Conservation and Science. The program in Conservation and Science makes grants in the USA and internationally in several sub-programs.
Marine Fisheries — Grant making in marine fisheries is mainly for activities in the USA and Canada, but Packard also funds some projects which are global.
Marine Birds — The emphasis is conservation of species that rely on coastal and island habitats in the eastern and central Pacific.
Coastal Ecosystems — Grants in coastal ecosystems are for the California coast, Gulf of California (Mexico and USA), and selected areas of the western Pacific.
Climate Change — Grants for climate change focus on policies for low-carbon energy, and on land use in tropical forested regions.
Conservation in Western North America — Grants for conservation in western North American include coastal areas of northwestern Mexico.
Other Themes: The Foundation supports oceanography programs at the Monterey Bay Aquarium in California, as well as other programs in conservation and science.
About sub-programs in Conservation and Science
The Foundation makes grants to charitable, educational, and scientific organizations in the USA and other countries. Most grants range from US$20 thousand to US$500 thousand. A few grants reach multi-million dollars (usually over multiple years).
APPLICATION: Potential applicants should consult Packard's website for the criteria, guidelines, and restrictions of grant making.
About how to apply
Geographical Distribution of Grant Activities in Developing Countries
Packard's grants in Conservation and Science fund activities in the developing regions indicated below.
Southeast Asia and Pacific Islands
East Asia
Eastern Europe and Russia (i.e., referring to Russia's Pacific coast)
Latin America and Caribbean
Packard has a grants database that can be searched by program, year, and grant amount.
Some of Packard's funding for climate change is through the ClimateWorks Foundation.
In addition to making grants, Packard makes program-related investments to support its goals and objectives. This refers to loans, guarantees, social deposits, lines of credit, and equity investments. With rare exceptions, this assistance is available only to organizations that are Foundation grantees.
The Foundation posts contact information.
February 2016