U.S. Fish and Wildlife Service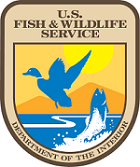 Grants for international wildlife conservation, organized by species programs and regional programs
The U.S. Fish and Wildlife Service (USFWS) has an Office of International Affairs to coordinate with other organizations and countries in the implementation of international treaties, conventions, and projects for the conservation of wildlife species and their habitats.
International grant-making in USFWS is named Wildlife Without Borders. Programs are organized by species, by regions, and globally.
Grant Programs for Agriculture, Energy, Environment, Natural Resources
1 — Species Programs. The USFWS administers grant-making funds for each of the following species and groups: African elephant; Asian elephant; great apes; marine turtles; and rhinoceros and tigers.
2 — Regional Programs. Regional programs are defined for each of Africa, Eurasia (East Asia and Russia), and the Western Hemisphere (Mexico, Central America, South America).

About regional programs
In each of these program areas, eligibility for competitive grants is open to organizations and individuals worldwide. Applicants can be public or private, and governmental or non-governmental. Most grants are to national and international wildlife organizations; zoological societies; conservation and development NGOs; and institutions of research and education.
APPLICATION (for 1-2 preceding): Grants in all competitive programs are made through calls for proposals. Each program has a fact sheet, guidance on how and when to apply, calendar deadlines for submitting proposals, and supplementary information. Most grant programs have one or two submission deadlines per year.
Applicants or project partners are normally expected to contribute cash or in-kind contributions to the project. Additionally, applicants from non-governmental organizations should include letters of support from the relevant local, regional, or national conservation authorities in the countries where the projects take place.
Most of the international grant-making programs in USFWS post email addresses for individuals who have questions.
Geographical Distribution of Grant Activities in Developing Countries
Worldwide
The USFWS website is available in English. However, some grant-making programs also accept applications in French and/or Spanish (if accompanied by summaries in English).
USFWS International Affairs provides contact information for its different divisions and branches.