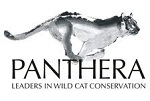 Support for education, research and conservation of the world's wild cats
Panthera was established in 2006 to promote conservation of the world's wild cats. Panthera focuses on strategies to protect the world's most imperiled cats and their habitats through advocacy, education, research, field conservation, and policy.
Panthera makes grants in several categories of cat conservation and research; it offers prizes to recognize achievements in cat conservation; and it offers a fellowship for early-career conservationists.
Grant Programs for Agriculture, Energy, Environment, Natural Resources
Panthera sponsors a variety of grants, prizes, and a fellowship in support of international cat conservation. The following opportunities are open to competitive applications.
1– Kaplan Graduate Awards. Grants support young biologists for field research on wild felids. Applicants are post-graduates pursuing a higher university degree (masters degree, PhD, or equivalent). There are no restrictions by nationality. The awards are up to US$15 thousand for one year, with the possibility of continuation.
About the Kaplan Graduate Awards
2 — Small Cat Action Fund. In cooperation with the World Conservation Union (IUCN), these grants fund in situ conservation and research on small cats (the species are listed on Panthera's website). The Fund is open to all qualified individuals and institutions, with preference for projects that have a strong conservation emphasis. Grants are up to US$15 thousand for one year, with the possibility of continuation.
About the Small Cat Action Fund
3 — Sabine Snow Leopards Grant Program. The Andrew Sabin Family Foundation and Panthera are partners in the Sabin Snow Leopard Grants Program, which will provide support for in situ conservation projects of snow leopards. Awards are up to US$20 thousand for one year, and may be extended for more years, contingent on results.
About the Sabine Snow Leopards Grant Program
4 — Winston Cobb Memorial Fellowship. The Fellowship funds an internship for early-career conservationists to help them develop field skills for the conservation of wild cats. The fellowship covers travel and support for fieldwork on an established project selected by Panthera.
About the Winston Cobb Fellowship
APPLICATION (for 1-2-3-4 preceding): Panthera describes each of its funding programs in terms of purpose, eligibility, budget items, evaluation criteria, and application dates.
Panthera uses an online application process, providing instructions and templates to guide preparation of the application and project budget.
About how to apply
Geographical Distribution of Grant Activities in Developing Countries
Grants support conservation in the range states of the world's wild cats. This includes parts of the following developing regions:
Southeast Asia and Pacific Islands
East Asia
South Asia
Eurasia and Central Asia
Eastern Europe and Russia
Sub-Saharan Africa
Latin America and Caribbean
In addition to making competitive grants, Panthera also manages a few programs where funding is made by invitation only. See Initiatives for the complete list.
Panthera identifies its most important conservation alliances. Several partners are grant makers that are separately profiled in the Terra Viva Grants Directory.
Panthera posts profiles of its management team.
Contact Us provides an email contact form, along with information for Panthera's offices in New York and London.
January 2021