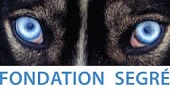 Grants for wildlife conservation with partners for Africa, Latin America and the Caribbean, Asia-Pacific, and Europe and the Middle East
Principal Office: Switzerland
Fondation Segré focuses on the conservation of threatened species and their habitat, and the restoration of degraded ecosystems.
The Foundation collaborates with international and local partners to fund conservation projects around the world – including in the developing regions of Africa; Latin America and the Caribbean; Asia-Pacific; and Europe and the Middle East.
Grant Programs for Agriculture, Energy, Environment, Natural Resources
Wildlife conservation. Fondation Segré defines the following strategic priorities in support of conservation, focusing on wildlife.
Favor the long term viability of wild populations and control factors affecting their decline;
Support efforts to maintain, restore, and protect critical habitats and functional ecosystems;
Support captive breeding of endangered species and their reintroduction into the wild;
Foster the sustainable use of forests, water, and rangelands;
Improve national and international legislation on biodiversity conservation, taking into account stakeholders;
Support educational activities for specialized training of technical staff; and
Cooperate with the relevant regulatory and enforcement institutions to prevent and mitigate the impact of illegal hunting and trading of wildlife.
APPLICATION: The Foundation welcomes proposals anytime in the preliminary form of a brief concept. The Foundation will review it for consistency with its priorities and criteria, sometimes in consultation with independent experts.
If the concept is approved by the Foundation, the proponent will be invited to submit a full proposal.
Geographical Distribution of Grant Activities in Developing Countries
Worldwide
Fondation Segré publishes project profiles, organized by world regions.
The foundation identifies its board, advisers, and team.
The Whitley-Segré Conservation Fund (WSCF) is a new partnership between Fondation Segré and the Whitley Fund for Nature. The WSCF provides further funding to previous Whitley Award winners to scale up their successful conservation work. (Note: The WSCF program is closed to new applicants.)
Fondation Segré provides complete contact information.